Whether it's via Zoom, Skype or Microsoft Teams, online interviews are here to stay. For employers, meeting with candidates in a virtual as opposed to physical space is convenient, time and cost-effective, and of course safe too. But for the candidate, the experience can feel a little more challenging than a face-to-face interview.
Online interviews are a lot different to interviewing for a new job in person. However, don't let this blow your chances – with the right preparation, you can make an online interview work in your favour.
Here are some tips to help you prepare for an online interview:
Test Your Tech

Practice Makes Perfect

Lights, Camera, Action

Dress The Part

Body Language
1. Test Your Tech
Some technical problems can be unavoidable but minimise this risk by testing your equipment before the interview itself. Familiarise yourself with the equipment and software by doing a test call with a family member or friend. This is a good opportunity to make sure the microphone, speakers and internet are all working as they should.
Be sure to double-check your screen name. This may seem a trivial consideration but remember – this is your personal brand. While using the same name you had for yourself for the virtual pub quiz last Saturday night may seem harmless enough, it isn't necessarily going to look good in the eyes of a potential employer. Keep it professional and use your full name.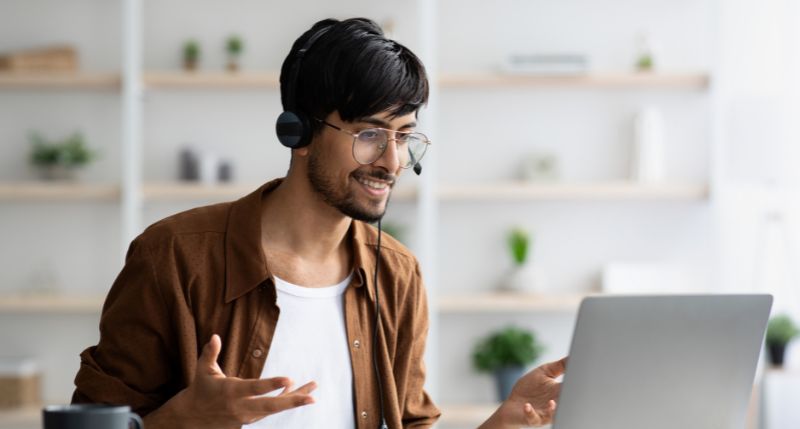 2. Practice Makes Perfect
As you would prepare for a face-to-face interview, you need to prepare for an online. Practice your answers, look up the job description and consider what experience you can use as examples.
Print out your CV and cover letter and keep them beside you, use these to refer to if needed – just don't read directly from them like a script. Virtual interviewing may feel unnatural at first but reciting details from your application verbatim risk seeing you come across as robotic and impersonal.
3. Lights, Camera, Location
Choose a quiet room with minimal background noise. Minimise distractions by locking pets outside of the room and making sure those you live with know the time and room of your interview.
Once you've chosen a suitable room think about your surroundings. Keep it clean and clear. Make sure you have good lighting, always have the window in front and never behind you (the camera seeks the brightest light and darkens everything else), hide dirty clothes (!), and choose a plain wall as your backdrop.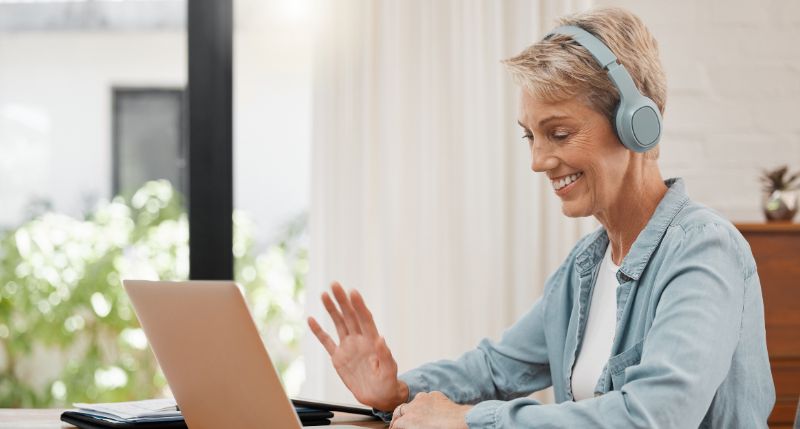 4. Dress The Part 
Standard rules still apply, get ready for an online interview the same way you would for a face-to-face interview. Change out of your loungewear and into business casual. Dressing the part will make you feel more confident and professional and creates a positive impression with potential hiring managers.
Cameras can change the way colours and patterns come across. So, choose solid colours as some patterns may distort on camera and be distracting to the interviewer. Likewise, if you wear makeup, some bright colours will look more pronounced, and other colours may look duller.
5. Body Language
You might not be in the same room as the interviewer, but body language still matters. Sit up straight, don't fidget, keep your upper and middle body in the centre of the screen, avoid adjusting the camera, and remember to keep engaged. Positive body language is a key way to convey your confidence and professionalism.
Making eye contact difficult during online interviews but focus on the webcam instead of the interviewer's face of your own. Elevate your laptop to eye level by using a laptop stand or stacking books underneath it. That way you can sit straight and look directly into the camera.
If you are looking for advice on how to best support your teams, speak to one of our experts today and for more tips and insights into the recruitment world, check out our career advice blog.